The 2021 Subaru Love Promise Customer and Community Commitment Award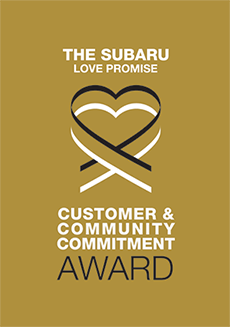 We've been nationally recognized for our dedication to our customers, our community, and the Subaru Love Promise.
We're honored to receive the 2021 Subaru Love Promise Customer and Community Commitment Award. This award nationally recognizes elite Subaru retailers who provide an exceptional customer experience at every interaction with Subaru. These retailers have also demonstrated an outstanding commitment to supporting passions and causes in their local communities in important areas such as the environment, community, health, education, and pets.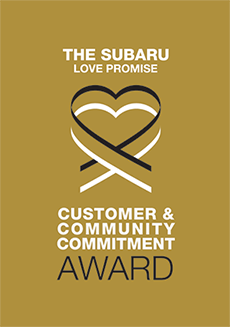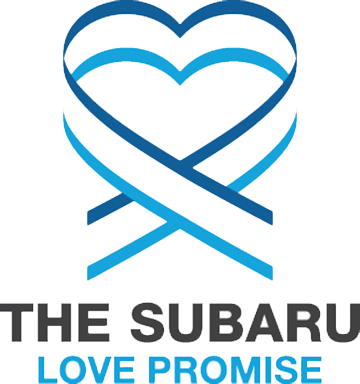 What is the Subaru Love Promise?
Subaru and our retailers believe in making the world a better place and the Subaru Love Promise is our vision of respecting all people. This is our commitment to show love and respect to our customers and to work to make a positive impact in the world.
How is Jim Armstrong Subaru dedicated locally to the Love Promise?
Our Love Promise can be seen in various partnerships with local charities and non-profits. We're grateful for the opportunity, not only to be a part of our community, but to serve it as well.
Humane Society of Catawba Valley
Longview Elementary School
Meals on Wheels- Catawba County, Salvation Army , Boys & Girls Club
Love Promise Stories from Jim Armstrong Subaru
Subaru and Jim Armstrong Subaru believe in making a positive impact on the communities in which we live and work. We uphold that belief through our Love Promise Community Commitment. Every month, we select inspiring stories from customers and partners from around our area who strive to support our collective commitment and feature them here
Subaru Loves Learning 2021 - Jim Armstrong Subaru J
Jim Armstrong Subaru is proud to partner with Longview Elementary again this year for our Subaru Loves Learning Love Promise. Jim Armstrong Subaru along with AdoptAClassroom.org were able to give several teachers the ability to purchase much needed supplies for their classrooms.
---
Subaru Loves to Help 2021 - Alisha L
I never thought the day would come that I would need to have a blood transfusion. In January I was in the hospital and they informed me that I would need to have a blood transfusion. My blood levels were consistently dropping. For this I am extremely grateful that our dealership holds annual blood drives twice a year. We had our first drive in May and will have another this fall. Thank you to all customers, employees, and members of the community for donating at our drive. You never know who all you might be helping with a Subaru Loves to Help moment.
---
Subaru Loves the Earth 2021 - Alisha L
In honor of Earth Day 2021 and Jim Armstrong Subaru's ongoing commitment to our Love Promise Pledge, a few of our employees took the initiative to clean areas along US HWY 70 near where our dealership is located. We are proud to call these employees our own.
---
Subaru Loves Pets 2021 - Alisha L
Jim Armstrong Subaru is proud to tell you about one of our Lot Porters, Jonathon, doing his part to help some kittens find a new home. He heard two kittens crying in our parking lot. Jonathon kept checking on them periodically to see if a Momma cat came back to them. She never showed back up to her babies. Jonathon's sister had a cat that just had kittens, so he took the abandoned kittens to his sister's house. Luckily the new Mother took the two kittens in as her on. They are doing great and thriving in their new home!
---
Subaru Loves the Earth 2021 - Alisha L
Jim Armstrong Subaru is proud to partner with TerraCycle to recycle the old cabin air filters, plastic film from the new cars coming from the factory, coffee pods, snack wrappers, and disposable cups. TerraCycle takes items that are normally non-recyclable as well as recyclable items and turns them into everyday use items. Jim Armstrong Subaru is committed to our Subaru Loves the Earth promise. We want to do our part to make the Earth a better place for future generations.
---
Subaru Loves To Care 2021 - Alisha L
Jim Armstrong Subaru would like to thank our amazing customers for the can good donations. We were able to further our Subaru Loves to Care initiative by donating the can goods to Sabbath Soup Kitchen & Emergency Food, a ministry of Viewmont Baptist Church. Their ministry helps fight hunger in our local community by providing a hot meal to those in need every third Sunday of the month and a food pantry on Mondays.
---
Thank you from Meals on Wheels of Catawba County - Michele F
A big Thank You to Jim Armstrong Subaru for selecting Catawba County Senior Nutrition Services (Meals on Wheels) as their Hometown Charity for Subaru's 2020 Share the Love Event. The 2020 Share the Love Event was the sixth consecutive year that Jim Armstrong Subaru selected Catawba County Senior Nutrition as their Hometown Charity. During the pandemic, we have been able to continue to meet the demand for senior nutrition services and have added two new delivery routes to serve an additional 15 seniors. Catawba County Meals on Wheels is very grateful for Jim Armstrong's continued generosity and support in feeding Catawba County seniors. We cannot thank you enough!
---
SUBARU Loves Pets - Gomez (HSCC) - Erin H
Gomez was found on the grounds of Humane Society of Catawba County, apparently abandoned by his owner. Staff and volunteers kept food out for him and noticed that he always walked very low to the ground, almost as if he was constantly trying to hide, or even stalking. It wasn't until a volunteer had gained his complete trust that she was able to closely observe his legs and paws. It was clear something wasn't right, as his limbs seemed twisted. Gomez was brought into the shelter for the veterinarian to examine him, and the observations were correct. Gomez's feet, all four of them, were "clubbed," also known as twisted leg syndrome. As Gomez was an adult, there was no treatment to offer him. Kittens born with this condition can sometimes have it corrected by intense therapy and castings. Unfortunately, this option was too late for Gomez. All HSCC could do was to offer him a home and love. Gomez was taken home by a dedicated cat foster parent and observed to ensure he had the mobility necessary to live successfully in a home. Gomez was a champ and used the litter box with ease and had no problem getting to and from his food, albeit slowly and carefully. His foster parent kept him for several days, building up his confidence and trust before returning him to the shelter for adoption. Now a more friendly (although still a bit shy) cat, he came to enjoy the company of both people and other cats and was located in our Main Colony. He was made Cat of the Week for the week of October 5th. (HSCC Pets of the Week program is used to highlight those animals who have issues, whether it be age, behavioral or medical issues. Clearly, Gomez's twisted feet and legs brought him to the forefront of cats in the shelter.) He was featured in our local newspaper, and a couple from a nearby city who had recently lost a cat to kidney disease saw his photo and write-up. "We read about him and we just perked up our ears… we knew we needed him!" said Genie McHale. She and her husband David filled out an application, and then waited anxiously to get an appointment to come and get to know—and hopefully adopt—Gomez. Due to COVID19 restrictions, adopters were only allowed in the shelter by appointment. They were thrilled to quickly get an appointment and in only a day or two were traveling to Hickory to meet Gomez. It was love at first sight. They knew he was the cat for them, and they brought Gomez home that day to join their two family cats, Tiger and Princess. Gomez was shy at first, but soon enough was out and about surprising his new family. Sofas, beds and chairs, thought to be out of his reach, were gained with confidence as he soon was snuggling in for naps with his new family… both those with fur and without! His skills were brought to the fore as in mid-November his new owners were diagnosed with COVID19 and were quarantined. Fortunately, their symptoms were not too severe, but they were forced to sleep upright in their recliners. "Nurse Gomez" was always there at their sides checking on them and keeping them warm, along with their other "Fur Nurses," Tiger and Princess. Happily David and Genie made full recoveries due to their dedicated "staff." Both David and Genie said without qualm that they "Couldn't be happier" with Gomez. He is a special cat with special needs, but most of all they needed him to make their home extra special.
---
Subaru Loves to Care - Alisha L
As part of our Subaru Loves to Care initiative, Jim Armstrong Subaru and Cintas of Hickory helped our local elementary school prepare for students to return back to school safely. On August 17, 2020 Jim Armstrong Subaru donated 1,000 surgical masks to Mt. View Elementary for returning students. We at Jim Armstrong Subaru know how important our kids are and want them to stay as healthy as possible while receiving their education.
---
Subaru Loves to Help - Alisha L
March 11, 2020 Jim Armstrong Subaru held its first annual blood drive. Partnering with Community Blood Center of the Carolinas our local blood donation center. Employees of Jim Armstrong Subaru and our amazing customers were able to help those in need of blood transfusions in the Catawba Valley area. For every donation given, donors are potentially able to save up to three lives. Statistics show that one in three people will need a blood transfusion in their lifetime.
---